[
Kyo Yami
]
Task(s)/Mission(s):



Main Objective(s):



Task:
Note:
Rewards: 0 EXP


Secondary Objective(s):

None

[
Caje Mamoru
]
Task(s)/Mission(s):



Main Objective(s):



Task:
Note:
Rewards: 0 EXP


Secondary Objective(s):

None

[
Kirimono Murusaga
]
Hashimaru smiled at Kirimono, an attempt to reassure him. He soon after instructed the boy to return home and rest. Everyone required it after this long, somewhat exciting, yet frustrating day. And by simply the looks of it, the Hokage seemed pretty tired himself, despite the fact that he didn't do much. Although, Kirimono suspected it had something to do when Chizu, covered with the Nine-Tail's Demon chakra during the time, was held down by some unknown force that kept her from rampaging. He seemed curious to know what it was, but eventually shrugged it off when Kazuki approached him. A light smile appeared on Kirimono's face when Kazuki said something jokingly, and with some help from his fellow teammate, Kazuki and Kirimono made their made to his house where he would most likely rest. Or return to whatever he does during his free time. "
Chizu..."
He uttered, though Kazuki couldn't hear him. It was a silent whisper, pondering whether she'd be really safe. The man, namely Hanzo, somehow found her after all these years. Fourteen years since that incident with her parents. Eventually, they arrived outside his house and was told to rest easy by Kazuki. Kirimono turned and proceeded to enter his small home, and without a simple farewell or any other words, closed the door behind him.
Task(s)/Mission(s):



Main Objective(s):

None

Secondary Objective(s):

None

[
Kazuki Nameni
]
Hashimaru merely nodded at Kazuki when he mentioned returning back home, and soon after ordered the remaining ANBU to search for any and other intruders within the village. He didn't trust that man, this
Hanzo
individual, at all. Not after what he pulled during the Chuunin Exams. Things, the way they turned out to be, would be different now. But Kazuki shrugged it off and continued along with Kirimono. Everyone required rest after what happened and what they been through. Still, he couldn't help but ponder at Hanzo's words and what he said regarding the ninja world required to be
purged
-- A threat, obviously, to the entire Five Great Shinobi Villages and what they believed in. With a silent and relief sigh, he finally arrived outside Kirimono's house and instructs his fellow teammate to rest. With a simple nod from Kirimono, he enters and soon after closes his door shut without any words. Kazuki immediately turned and leaps upwards onto the rooftops before making his way back home. Despite his attempts to attack that man, Kazuki felt useless and required further training before he could even stand a chance against him. He suddenly felt the winds blowing viciously, another coming storm later to unfold. This time, he needed to be ready. Upon arrival of his own quaint old house, which happened to be an apartment located in the center of the bustling village, he raised his arm and turned the knob on the door with his left hand before casually entering.
Task(s)/Mission(s):



Main Objective(s):

None

Secondary Objective(s):

None

[
Jinn-Tu Hyuga
]
Task(s)/Mission(s):



Main Objective(s):



Task:
Note:
Rewards: 0 EXP


Secondary Objective(s):

None

[
Raphael Yaida
]
The breeze felt cool, and the vividly sun overhead made things warm all the same. Raphael had been running for hours, it seemed. But this did not bother him at all. It had been a while since he received his last mission, and what better way to start off with an assassination one.
Hatori Hiro
, He thought,
Kirigakure
. These words remained inside his head as he made his way towards said village, where his target would be found. Narrowing his eyes for a few seconds, Raphael often checked his back by looking over his shoulder, now remained constantly vigilant. He couldn't help but sense someone or something's been following him since he left his village, and simply sighs. "
Tch
..." Raphael utters. Regardless of this, he continued on. His follower, whomever it may be, would be dealt with - Sooner or later. After another few hours or so, Raphael arrives at his destination, but hesitates to continue any further. The large meadow clearing he was in felt nice, and didn't have to continue watching his back for any sort of surprise attack. Instead, he observes his surroundings and makes certain that the individual following him wasn't going to attack him now. What did he or she wanted, exactly? He began wondering what to do; confront his follower or continue to his target nearby. Just ahead, Raphael could see a small structure over the horizon; the targets home. And with a simple glance, he knew where his follower was, hiding himself or herself behind a thick tree located near a small forestry fifteen-to-tweenty feet away from him.
Task(s)/Mission(s):



Main Objective(s):

The Target

Task: Continue on or confront your follower
Note: ...
Rewards: 100 EXP & ?


Secondary Objective(s):

None

[
Kyo Yami
]
"Understood" Ishimaru answered, simply. "Summoning Jutsu!" Kyo's mind screamed at him, slamming his palms onto the floor beneath him. Not long after summoning a small Snake-Tailed Chameleon, which Kyo informs it to summon Ishimaru immediately, it disappears. Almost instantaneously before the Chimera-like Chameleon vanishes, Ishimaru appears standing alongside Kyo.
Reverse Summoning Jutsu...
, Kyo thought,
...Is a success
. Despite being summoned every now and then, Ishimaru simply never got used to it and would probably never will. This feeling of uneasiness, however, is gone from him when he notices Hikaru on the table. It seemed as though they haven't begun experimenting with his body in order extract information out of him. Kyo and Ishimaru were lucky. But the latter couldn't help but feel something amiss. The moment he figured it out, he shrugged and turned to the corpse. "No wonder why Hanzo-Sama couldn't summon him through the Reverse Summoning Jutsu" said Ishimaru, referring to his dead body. "I trust you know what to do, right?" Kyo asked, jokingly. Unsheathing his blade slowly, Ishimaru proceeded to stab the corpse with his katana and uttered several words to himself. At that moment, Hikaru's entire body dissolved quickly, leaving no remains left. Kyo, having only seen it twice now, deduced it was some sort of acid technique deriving from his blade. "Forgive me for what I'm about to do next, Kyo, but I need you to trust me" He whispered. Without warning, Ishimaru slams his fist into Kyo's stomach, sending him tumbling backwards until coming to a full stop once his back crashes against a wall. Coughing up blood shortly after, Kyo pondered at Ishimaru's actions. Did he do it deliberately so that Hana would assume he wasn't affiliated with him? Or some other complicated reason? Whatever the case was, Kyo couldn't move from the attack just now -- temporarily, of course. His entire body felt numb from the sudden, overwhelming pain. Hana quickly materializes beside Kyo when she heard a loud thud inside in an effort to aid him. "Are you alright?" She asks, though she was facing Ishimaru when he said that. Not long after the body of Hikaru decayed and was destroyed, three members from the Leaf's ANBU Black Ops surrounds the person responsible for the act.
Battle Stats:



Technique(s) Used:

Paralyzing Strike [LV 5]
Description: A quick and powerful punch with force so great that its capable of injuring opponents to the degree that they cannot move, temporarily.
Effect: 50 DMG to the opponent. Opponent is unable to attack, block or defend for 1 turn only.
Cost: -80 Fatigue


Task(s)/Mission(s):



Main Objective(s):

Other Half...

Task:
Note:
Rewards: 100 EXP & ?


Secondary Objective(s):

None

[
Caje Mamoru
]
The clone dispersed in a cloud of smoke the very moment its own technique collided with it, which was originally meant to be used against Caje. The Nara's shadow immediately returned back beneath him and sighed with relief, yet a small hint of disappointment was detected. He had at least hoped to defeat one of the troublesome duo right away, but it would seem that wouldn't be the case at the moment. As Shikumo climbed, Naomi cheered on as they successfully destroyed its clone, but wondered where the real one was. In truth, the real Kamuri had long left the area, leaving his twin brother behind to toy with the others while his shadow clone assisted him. His assignment was accomplished and wished nothing to do with them. Shikumo walked slowly towards the top until he stood alongside with Naomi near the edge of the cliff -- His feet no longer focused with chakra. "You three alright?" Shikumo asked, his eyes momentarily focused on one each of his students before turning his attention to the other man along with the Hyuga not far from them.
We'll need to capture this man
, He thought,
And find out what he knows
. Ryu was shaken when he saw his Sensei plummet to his death and couldn't act bravely like Caje did, and attacked one of the two assailants earlier. But now that he knew he was alright he was back to his normal, yet dynamic self. "Alright, lets do this!" Ryu smirked, cracking his knuckles as he did.
Task(s)/Mission(s):



Main Objective(s):

Troublesome Duo

Task: Defeat or repel Kazuya (Reduce his Fatigue by 50 or below to successfully repel him).
Note: ...
Rewards: 50 EXP


Secondary Objective(s):

None

[
Kirimono Murusaga
]
Task(s)/Mission(s):



Main Objective(s):



Task:
Note:
Rewards: 0 EXP


Secondary Objective(s):

None

[
Kazuki Nameni
]
Task(s)/Mission(s):



Main Objective(s):



Task:
Note:
Rewards: 0 EXP


Secondary Objective(s):

None

[
Jinn-Tu Hyuga
]
The member of the Hyuga clan barely dodged it by a hair's breadth and if it weren't for his Byakugan, surely things would of ended differently for him. Not a second later after he'd avoid it, Jinn-Tu sprung back into action and attacked the red-haired individual. "Eight Trigrams: Sixty-Four Palms!" Jinn-Tu screamed at him, his first two strikes hitting the man. "Shi-...!" Kazuya growled after two more consecutive strikes came. He staggered and tried to move out of the way, but couldn't. Soon eight more, then sixteen, thirty two and eventually another thirty two consecutive strikes in succession to make a total of sixty four strikes. At that last thrust that struck him he stumbled back, and soon after got knocked down, his blade still remaining in his hand. He cursed the Hyuga as he quickly stood back up and felt something wrong. Needless to say, his Chakra Pathway System had been closed off -- Temporarily, of course. He created some distance between them to recover by jumping backwards and skidded along until he came to a full stop. His teeth were gritting in annoyance and despised the member of the Hyuga clan. Looking back with a simple glance over the shoulder, he could tell the others would come after him. His twin brother's clone, Kamuri, had been defeated and, although he'd never admit it, required some help from him. Things would turn out badly for him if it were to continue like this. His chakra reserves were reduced by half and wouldn't be able to last long if the other leaf ninja intercepted. There was only one choice he had left; Escape. "Kamuri, I need you to summon me" He whispered towards his wrist after activating it, and Jinn-Tu could see it was a special seal of some sort through the Byakugan's vision.
Task(s)/Mission(s):



Main Objective(s):



Task:
Note:
Rewards: 0 EXP


Secondary Objective(s):

None

[
Raphael Yaida
]
Her eyes widened with surprise and jumped into the open in a nick of time, avoiding the attack all the same as it began shredding the tree in half when the bullet of wind struck it. Immediately, Raphael recognized the individual as she stood up. "Niiro?" He said, slightly surprised. Niiro, an old teammate of his, had been following Raphael since he's left the village. But for what reason? He soon questioned her, "What are you doing here? Why are you following me?". She chuckled sheepishly, she knew following him, hiding in the shadows, wasn't a good plan. But it didn't matter now. Dusting herself as she came closer, Niiro finally answered him, "I promised you, didn't I?". He had no clue as to what she was referring to, and merely remained silent as he stared at her. "You saved me once several years ago, and I, in turn, want to help you whatever it is you're doing" She smiled, innocently enough. She stopped once she was no more than two or three feet away and waited for any sort of reply, hoping he'd take her along with his assignment. Raphael pondered at this. The Handler never said anything about completing the assassination alone.
She might prove useful if the enemy is somewhat stronger...
, He thought,
Or perhaps she'll only get in the way
. "So?" She added, her smile never vanishing, "Can I tag along?".
Task(s)/Mission(s):



Main Objective(s):



Task:
Note:
Rewards: 0 EXP


Secondary Objective(s):

None

[
Kyo Yami
]
"This is a special joint operation with ANBU from both villages - sanctioned by Sand's and Leaf's leaders - in an effort to capture whomever it was trying to either destroy or recover Hikaru Ryusei's corpse!" declared Hana, the leader of said operation. Kyo now understood what was afoot, and simply played the part of an innocent individual in a crossfire. Hitting Kyo like that and paralyzing him momentarily was the only way Ishimaru could think of without endangering Kyo's relationship with Hana -- Otherwise things would of turned out quite differently for him. "
Ho
...All this for little old me? I'm flattered" Ishimaru smiled, activating his seal unnoticed. "Looks like I'm done here, though". With his seal activate, Hanzo was able to hear him and performed the necessary steps in summoning him. Before Hana even had a chance to explain Ishimaru that he didn't stand a chance, his figure dispersed in a shroud of smoke almost instantly and no longer remained standing.
I-Impossible
, Hana thought, surprised. "F-Find him! We can't let him escape!!" She bellowed out in fury, commanding the ANBU to form a search party in an attempt to find Ishimaru. One ANBU, a captain, remained behind as the others scattered. "What about him? Is he an enemy, too?" He asked, his hand gripping a katana strapped behind his waist. Hana looked over her shoulder and glanced at Kyo as she answered him, "No, he's an old friend". Despite their joint operation with one another, the ANBU refused to believe such a thing until he either saw
it
or didn't. He required proof, and there was only one way to find out. "If what you tell me is true, than I believe there is no harm to him in revealing to us both his wrists to find out whether he belongs to the organization we're after. I've been informed that they have a special insignia on them" He added, slowly he pulled his katana out of its sheathe. Hana narrowed her eyes as she turned back to glare at the ANBU Captain. "We, Sunagakure, were once considered an enemy three years ago" .
Task(s)/Mission(s):



Main Objective(s):

Other Half...

Task: Return to Hanzo-Sama or find Seiro.
Note: ...
Rewards: 100 EXP & ?


Secondary Objective(s):

None

[
Caje Mamoru
]
Ryu didn't seem to understand Caje's sour, distraught even, mood. With one raised and the other eyebrow lowered, Ryu stared at his teammate as he dashed off in an effort to assist the lone Hyuga. Shikumo seemed concerned with something else, other than the battle at hand. "So, its finally come to this" He muttered to himself. Naomi soon noticed her sensei and asked what was wrong, whom said nothing, and turned her attention back at the two fighting -- Three now, hence Caje joining the fray. Meanwhile, the three shurikens that were thrown effortlessly glided towards its intended mark. The red-haired shinobi was aware of something coming at him at fast speeds, but his attention was soon arrested by the quickly approaching Hyuga, his hands performing hand seals. Kazuya prepared for another Hidden Sabre Technique for Jinn-Tu, but the thrown weaponry soon grazed him and moaned in agony. "Dammit!" He growled, his anger shot up as he looked over his shoulder and saw the person responsible for those shurikens. These wounds of his weren't fatal at all, but the pain that came along with them distracted him long enough for the Hyuga's technique. "Water Style: Water Prison Jutsu!." Kazuya's eyes widened as he turned and soon released he was now engulfed in a sphere of watery prison, and simply cursed at the person in front of him. Landing with a soft thud, Caje observed the now captured individual responsible for attacking them in the beginning. "Its over" He thought. Just when things were coming together for them, the mans figure dispersed and was gone. "I-Impossible...!" said Naomi, completely surprised.
Task(s)/Mission(s):



Main Objective(s):



Task:
Note:
Rewards: 0 EXP


Secondary Objective(s):

None

[
Kirimono Murusaga
]
Kirimono had been pondering over his thoughts all morning, wondering whether or not to go and see Chizu. Actually, he didn't know where they took her to keep her safe, and simply forgot to ask. He thought maybe asking the Hokage, Hashimaru, where she might be. Or their sensei, Taro, might know. These thoughts on what to do today came inside his mind constantly, and simply was at a loss. He heard something outside, a knock, but simply shrugged it off. "Maybe I should go and see Chizu" He muttered to himself. Then, he heard it again, but much louder this time. He stood up quickly, his pouch full of supplies falling off that came with a somewhat large thud as he did. "Tch" He growled, grabbing the essentials that poured out and along with his pouch. He made his way around the couch and soon enough reached the door knob and simply twisted it, and it opened. The bright outdoors was surprisingly, well, bright and had to close his eyes a few seconds to adjust to it. He could see a figure, barely, standing in front of him and uttered one word, "Kazuki?". "Are you alright?" Kazuki asked, concerned. With a simple nod from Kirimono, he answered, "Yeah". Kazuki soon asked him what to do today. "So, what do you feel like doing?". Kirimono gave it some more thought, wondering at the moment on how they should start today.
Task(s)/Mission(s):



Main Objective(s):



Task:
Note:
Rewards: 0 EXP


Secondary Objective(s):

None

[
Kazuki Nameni
]
Landing with a soft thud, Kazuki spun around and approached Kirimono's house and simply knocked on his door. No answer.
Hmm
, Kazuki thought,
Maybe I should let him sleep
. Regardless of this, he knocked harder a couple of more times in attempt to make sure he was doing alright. "Kirimono?". He could hear a rustle inside and soon enough the door knob turned and shortly after opened, revealing Kirimono rubbing his eyes. He closed them momentarily, often blinking, his eyes adjusting to the bright and shining outdoors. "Kazuki?" He answered, somewhat surprised. The orb above the skies shined vividly, no doubt a sign of a hot afternoon, but a wonderful day nonetheless. "Are you alright?" Kazuki asked, slightly concerned. With a simple nod from Kirimono, he answered, "Yeah". Kazuki observed behind Kirimono's shoulders and surveyed inside his home momentarily before casually asking him, "So, what do you feel like doing?". He soon noticed and heard a familiar noise and turned his face to its direction where it came from. "Taro-Sensei's..." He muttered when he saw a familiar cat, armed with a ninja vest fit for its size and several weapons attached to said vest, as it went scurrying away. He shrugged it off his shoulders and paid attention back to Kirimono as he waited for a reply.
Task(s)/Mission(s):



Main Objective(s):



Task:
Note:
Rewards: 0 EXP


Secondary Objective(s):

None

[
Jinn-Tu Hyuga
]
Jinn-Tu was aware that the lone individual was preparing for a familiar technique to be used against him as he quickly approached him. "Tch" He uttered, still running up towards him.
Those shurikens of his
, He thought,
Might provide me the necessary distraction to land this technique on him
. Soon enough, the shurikens did grazed him and as he turned to look over his shoulder, Jinn-Tu had the perfect opportunity to finish his jutsu and capture him once and for all. "Water Style: Water Prison Jutsu!." The man slowly turned his head, his eyes widened in shock as water quickly formed out of Jinn-Tu's palms and engulfed the man in a watery sphere, successfully trapping him.
Capture
, Jinn-Tu,
Successful!
. The red-haired individual observed the water prison, with a circled shape, he was caught in and screamed at him a dozen curses. No doubt the man in front of Jinn-Tu wanted to kill him for humiliating him like this. "I'll remember you,
Hyuga
" Kazuya growled, his voice distorted due to the water prison. Jinn-Tu narrowed his eyes and couldn't help but sense this odd feeling the man had a plan to escape. Before he could lay questions on him, the man escaped - surprisingly enough - as his body dispersed in a shroud of smoke, which soon dissolved in the water. With widened eyes, Jinn-Tu couldn't believe he actually did escape through unknown means and scanned the vicinity around him, yet no signs of him was detected. He simply vanished. The water prison in front of him soon bursts as Jinn-Tu continuously scours the area, yet meets the same outcome of his search; Nothing.
Task(s)/Mission(s):



Main Objective(s):



Task:
Note:
Rewards: 0 EXP


Secondary Objective(s):

None

[
Raphael Yaida
]
Niiro nodded and smiled, she hid like before and watched carefully for Raphael's signal. She didn't want to let him down and did as she was bade. Raphael meanwhile surveyed the room through the window and searched for his target anywhere inside.
Nothing
, He thought,
Its all empty inside
. He pondered over the thought of whether or not he should enter or simply wait. "Transformation Jutsu" He muttered and became a rock that leaned against the house, hiding and waiting patiently for his target. Trained in assassination and no doubt a patient individual, Raphael bided his time. The glowing orb above slowly began to set and night soon came, yet still nothing. The mental image of the man he was tasked to killed remained inside his head, and his name as well;
Hatori Hiro
. Morning came, but no man was seen or heard of these past fifteen hours. "Do you honestly think you can hide from me, the Eccentric Hatori of Order? Whatever it is you're after, you won't succeed" this voice called out to Raphael. Realizing he has been found, Raphael undid the transformation jutsu and glared towards where the voice came from. Standing there were both Niiro, whom was held hostage, and Raphael's target, Hatori. He knew it was him and fit exactly the description of his mark. "Kamereon!" said Hatori, and at that moment the house next to Raphael dispersed in a cloud of smoke, and in its place was a large chimera-like chameleon with snake for a tail. It disappeared shortly after, however, at the command of its master. "Your friend was the easiest to detect amongst the two of you,
nameless ninja
, and after carefully examining the vicinity I have no doubt in my mind that there is no one else but the three of us" He added, a deranged smile quickly appearing across his lips. Little did he know that the Niiro he held was a water clone, and at her command dispersed immediately. "Wha-...?!" Hatori thought, completely surprised. Instead of normal water, this sticky liquid landed onto Hatori and was unable to move due to its adhesive properties. "I-Impossible!". Elsewhere, Niiro hid behind several trees and observed through the small opening. "Water Release Shadow Clone" She thought, a small smirk perched across her lips.
Battle Stats:



Technique(s) Used:

Water Release Shadow Clone [LV 5]
Details: This technique allows the user to make a shadow clone infused with water. However, it is a chakra-enhanced water that is a sticky liquid which can be used to form an adhesive trap that can inhibit a person's mobility once the clone is dispersed.
Effect: 50 DMG is dealt to the opponent. Opponent is unable to Attack, Dodge and Block for 2 turns only.
Cost: -50 Chakra. -80 Fatigue.

Task(s)/Mission(s):



Main Objective(s):

The Target

Task: Kill Hatori Hiro
Note: ...
Rewards: 100 EXP & ?


Secondary Objective(s):

None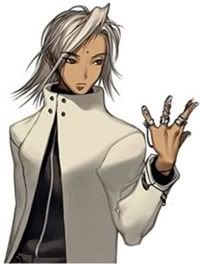 [
Kyo Yami
]
Kyo's assignment given to him by Hanzo was accomplished, and now to return back to his master. "Time to begin the next step. But I'll need to find Hanzo-Sama and Ishimaru, first" Kyo pondered at this as he made his way to the top of the Hokage Monument. Not long after he arrived at the very top, Kyo scanned the area and soon enough down below;
Nothing
. He tried using the seal on his wrist to contact Hanzo, but to no avail. Despite standing at a very high vantage point, it didn't work. "Strange." He uttered. "Maybe they're already waiting for me at the next hideout". He turned his general direction towards Northeast and began making his way towards their other hideout located near the Land of Lightning border. Kyo kept on trying to contact either Hanzo or Ishimaru through the seal, yet it always remained the same result as it did earlier before; Nothing. No answer. Something must of happened. Not to Hanzo, though, otherwise the seal on his wrist would of disappeared if it did. No, something else. Minutes seemed like hours, and hours seemed like days, Kyo was dashing through forests and meadows, lakes and other landscapes - and after ten hours of nonstop running - he finally arrived. "Kai!" He uttered, releasing the Genjutsu that was placed on an entrance to conceal it. It dispersed slowly, revealing a large entrance that would lead him towards a colossal underground cavern. The Genjutsu of a huge boulder blocking the entrance returned as Kyo made his way inside.
"You finally arrived, Kyo Yami," smiled Ishimaru, relieved.
Widening his gaze, Kyo could see the other members - high ranking individuals of Order - standing, some sitting, forming a large circle hidden in the shadows. Only a small handful of candlelights lit the underground den. "Excluding Hatori, you're the last one to arrive." Ishimaru added. Kyo noticed Hanzo wasn't present at the meeting, and seemed puzzled. "Hanzo-Sama...?" Kyo whispered, though the others heard him perfectly. "He should be back at any moment." Ishimaru answered, reassuring him. As he walked towards the group to join the circle, Kyo heard something unexpectedly from one of the members, "I heard Hanzo revealed himself to the enemy when he was at Hidden Leaf. Its kinda funny and ironic, isn't it?" one of the shadowy figures spoke. "For three years, he kept saying '
Go into hiding until the time is ripe
'. '
Until we are long forgotten
'. Idiot. He shouldn't be allowed to do so if we can't do the same. Its so incredibly boring just sitting back, watching as the world turns without us doing a damn thing!" He added, clearly disrespecting the leader behind his back. Kyo glanced at the corner of his eyes and saw the person who said that. "
Kazuya
." He uttered. Sitting on a rock-like surface not far off from the group, Kazuya - a lower rank member - had been cleaning his katana for while now, waiting impatiently for the meeting to begin. Kamuri, whom was a higher rank than his sibling, paid no attention to his twin brother and simply remained standing idly next to Ishimaru. Kyo soon approached where he usually stands during meetings, though this was the first one in three years. He glanced at each member within the circle clockwise and muttered to himself their names, "Ishimaru, Kamuri, Raizo and ."
Task(s)/Mission(s):



Main Objective(s):

Other Half [Complete!]

Task: Completed.
Note: You have finished this mission.
Rewards: 100 EXP & 3,000 Ryo


Secondary Objective(s):

None

[
Caje Mamoru
]
"
Tch
..." Caje uttered. Before he even had a chance to speak with him, the Hyuga had already left the area once the enemy miraculously escaped from his Water Prison Technique. With their enemies gone, this was an unfortunate outcome for their mission, but - apart from minor wounds and all - at least they were alright. Shikumo remained concerned regarding the people they fought.
Order
, He thought.
Have they finally returned?
. Not only that, the person he was saved earlier before was an S-Class Missing-Nin, hunted down for defecting his own village. But Shikumo Nara knew the truth behind him and his actions, he is Konohagakure's strategist and the Jounin Commander, after all. As he drew closer to his team, Naomi asked if everyone was uninjured and would heal wounds if someone was. Ryu simply said nothing, and merely shook his head in response. This was the first time he froze like that. Normally, he would of been driven with rage and attacked recklessly when he thought Shikumo-Sensei died. Perhaps he himself thought they didn't stand a chance. "Lets go" Shikumo ordered, sharply. The enemy had killed their contact, Yajuumaru, and whatever information he held - whether it was important or not - vanished along with him. Shikumo thought the Hokage was to be informed of this information, these members of the Order, so as to prevent another conflict between the villages. Last time it happened, war nearly broke out due to this organization -- Order, and its manipulative schemes.
Task(s)/Mission(s):



Main Objective(s):



Task:
Note:
Rewards: 0 EXP


Secondary Objective(s):

None

[
Kazuki Nameni
]
Task(s)/Mission(s):



Main Objective(s):



Task:
Note:
Rewards: 0 EXP


Secondary Objective(s):

None

[
Jinn-Tu Hyuga
]
With Amagai gone and no time to waste, Jinn-Tu dashed through the forests of Kusagakure until he reached the Land of Earth border, supposedly said to have sentries posted all around it -- Nothing but superstitious rumors to keep everyone away. "I should meet up with Midori-Sensei and see if there's anything else we can do." Jinn-Tu mumbled to himself. The landscape was mostly comprised of desolate, rocky areas. Not much cover if one needs to hide these days. As he approached where he last met with his Sensei, the Hyuga observed his surroundings for any signs of his teammates. "Any luck?" this voice asked, familiar to the member of the Hyuga clan. Midori crossed her arms upon her chest and waited patiently as Jinn-Tu turned and answered his sensei quickly, "I found him, but he slipped through my grasp before I had a chance to grab him." This was her fourth mission that ended in failure in her entire life as a shinobi, and she couldn't help but give Jinn-Tu a scolding glare. Normally, she would continue to search for their target, but knowing Amagai - her former teammate as part of Hashimaru's ANBU squad - She knew he would be long gone already and no doubt wouldn't leave any trail. "We can't stay here any longer. These primitive shinobi won't stand for our unwelcome visit once they find out we're here," she said, her tone flat. She turned her general direction Southeast and motioned Jinn-Tu to follow her with a simple gesture of her hand. "I'll contact the others and have them meet us somewhere outside the Land of Earth border. We'll then travel back to Konoha and report to Hokage-Sama our mission ending up in failure." She added, her voice cold as usual.
"Lets go."
Task(s)/Mission(s):



Main Objective(s):



Task:
Note:
Rewards: 0 EXP


Secondary Objective(s):

None

[
Raphael Yaida
]
Hatori lowered his face when both Raphael's neared, as if he were admitting defeat. The two blades closed in on the targets neck and soon enough decapitated the member of Order quite easily, his very own head sent flying a few meters into the air above. "This
body
of mine clearly underestimated you...!" Hatori grinned, his last words escaping from his mouth as it lands near its body; Dead. Raphael's mark has been successfully assassinated. The clone of himself dispersed immediately once its job was done. And for a moment there, Raphael thought it was too easy. He heard rumors about these members of Order to be quite dangerous individuals. Then again, it was all rumors anyway. Niiro quickly materialized beside Raphael and observed the dead corpse next to their feet. Her head was filled with questions regarding this man and whatever made Raphael kill him. But Niiro remained silent, her eyes now staring in the distance. She thought she had seen an individual vanishing behind a tree, yet nothing came of it, it was as if the person had completely disappeared. Her imagination was playing tricks on her it seemed. Niiro continued to remain silent, biting her lower lip. The member of the Yaiba clan soon took the head as proof in case the Handler required it and place it inside a satchel he'd been carrying.
"What now?" Niiro asked, curious.
Task(s)/Mission(s):



Main Objective(s):

The Target

Task: Return back to Kumo
Note: ...
Rewards: 100 EXP & ?


Secondary Objective(s):

None


Fire Release

Wind Release

Lightning Release

Earth Release

Water Release
"I-Impossible...!" growled Hatori, trapped in the adhesive trap. He remembered during the Chuunin Exams when he observed several shinobi, despite their ranks as mere Genin, miraculously defeated a man much stronger than them. As the two Raphael's neared, he couldn't help but grin.
, his very own head sent flying a few meters into the air above.
The force of the technique is strong enough to decapitate its victim and send the victim's head flying a few meters into the air.
thereby nullifying its effect.
[
Kyo Yami
]
Ishimaru had been paying attention to the conservation both Kyo and Kazuya were having, and he couldn't help but feel he was being blamed for telling things he shouldn't of said to the others. "Was I suppose to keep it as a secret?" chuckled Ishimaru, rubbing the back of his hair with his hand sheepishly. Kazuya merely scoffed -- He, too, wouldn't hesitate to kill Kyo. He simply ignored what Kyo said and continued to tease him, "You do realize that
Hanzo
is only using you like he did with Seiro, don't you?". He paused for moment, sheathing his sword before he continued, "And just like Seiro, you'll be tossed away as mere trash once he has found no use of you." Kyo rolled his eyes and remembered why Kazuya hated him so. It was during the time he joined and was taught directly from Hanzo himself, and later gained the opportunity to join the circle. And Kazuya, having joined the Order nearly eight years now, couldn't help but have a grudge against him. Only members of the Gogyō, or Five Elements - Hanzo's most trusted shinobi within the organization - were allowed to be present in meetings such as this one.
"
Task(s)/Mission(s):



Main Objective(s):



Task:
Note:
Rewards: 0 EXP


Secondary Objective(s):

None

[
Caje Mamoru
]
"
Naomi had been wondering what sort of information the Iwa-Nin they were assigned to escort held.
Task(s)/Mission(s):



Main Objective(s):



Task:
Note:
Rewards: 0 EXP


Secondary Objective(s):

None

[
Kirimono Murusaga
]
Task(s)/Mission(s):



Main Objective(s):



Task:
Note:
Rewards: 0 EXP


Secondary Objective(s):

None

[
Kazuki Nameni
]
Task(s)/Mission(s):



Main Objective(s):



Task:
Note:
Rewards: 0 EXP


Secondary Objective(s):

None

[
Jinn-Tu Hyuga
]
Task(s)/Mission(s):



Main Objective(s):



Task:
Note:
Rewards: 0 EXP


Secondary Objective(s):

None

[
Raphael Yaida
]
Niiro nodded and before following Raphael closely from behind, something cluttered near her feet when she nearly tripped over it. "Huh?" She uttered, noticing a strange sword on the ground that was once carried by Hatori Hiro, a member of the Order -- Although, she didn't seem to know him at all. Still, she kept wondering what prompted Raphael into killing him. However, what Raphael said about someone called '
the Handler
' and more '
deadly assassinations
and missions' he required gave her a small idea; Assassin. She wasn't aware Raphael being one, and whether it slipped out of his mouth or simply told her the truth about him, Niiro couldn't help but squeal. "You're an assassin!?" She said, smiling as she followed Raphael -- But not before reaching down and grabbing the sword that seemed to be covered with a strange aura of some sort, and holding on to it. As they dashed through forests and meadows, Niiro was occasionally staring at the katana she'd been carrying. "You know, I bet this could sell a pretty high price back in our village." She added. As they jumped from tree branch to tree limb, she paused to look at an inscription engraved on hilt of the blade before continuing, "Tell you what, I'd like you to have this. Use it or sell it, its yours." Not long after she spoke, Niiro threw said sword towards Raphael, whom caught it without much effort. He remained silent as they made their way back home, towards the Hidden Cloud village.
Task(s)/Mission(s):



Main Objective(s):

The Target

Task:
Note: ...
Rewards: 100 EXP & ?


Secondary Objective(s):

None

Last edited by Admin on Mon Apr 11, 2011 3:40 am; edited 6 times in total


Similar topics
---
Permissions in this forum:
You
cannot
reply to topics in this forum